"Martlets Popular Classical Spectacular"

We are proud to announce a Classical Spectacular which will take place on Sunday 9th March at All Saints Church in Hove in support of the Martlets Hospice.
Inspired by the world famous Dutch musician Andre Rieu, this concert features some of the most popular classical orchestral and vocal pieces with music by Johann Strauss, Elgar, Bizet, Puccini, Sullivan, Lehar and Verdi.
The audience is invited to sway, hum, sing-a-long, clap their hands, stamp their feet in the glorious, fun-packed, joyous atmosphere that this music radiates.
The programme includes Strauss' The Blue Danube Waltz, the Trisch-Trasch Polka, the Radetzky March, Elgar's Chanson du Matin, the Intermezzo from Cavalleria Rusticana, arias and choruses from Carmen, Tosca, The Merry Widow, Die Fledermaus, the celebrated duet from Bizet's The Pearl Fishers, the Humming Chorus from Madama Butterfly and many more, finishing with a "Last Night of the Proms" finale.
The wonderful line up of soloists includes soprano Jacquelyn Fugelle who has sung as a soloist at the Royal Opera and with all the major British opera companies as well as extensively across Europe. She is a regular soloist on Friday Night is Music Night on BBC Radio Two. Hyacinth Nicholls (mezzo soprano) is from Trinidad but is based in London. She has performed as a soloist with Glyndebourne Festival Opera, The Royal Opera and English National Opera. Gavin Sayers (tenor) has sung with Glyndebourne and Scottish Opera; Darren Jones (baritone) has sung with Glyndebourne Festival Opera, Opera North and with the Cologne City Opera.
Soprano Karen Orchin has sung with Regency Opera and English Festival Opera and is regular performer with MT2000. Also taking part is special guest singer Andrey Ganchuk from the Ukraine.
The chorus of some 50 plus singers is made up from the combined choruses of MT2000 and Actually Gay Men's Chorus and the large orchestra consists of players from the English Festival Opera conducted by Brighton based musician Simon Gray.
The concert, sponsored by Streamline Taxis, starts at 7.00pm on Sunday 9th March and tickets from £12.50 are available from the Box Office on 01273 555089
More information and press tickets available from SIMON GRAY (see below for contact details)
Music Theatre 2000
72 Balsdean Road, Brighton, East Sussex, BN2 6PF
Tel. (01273) 301220 Mobile 07885 833579
email: [email protected]

Website: www.musictheatre2000.com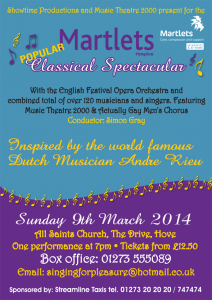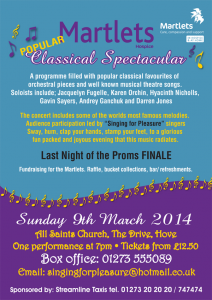 Powered by WPeMatico