Former 400m Commonwealth champion takes on 12 miles of earth, wind and fire as a member of Team Dyno-Rod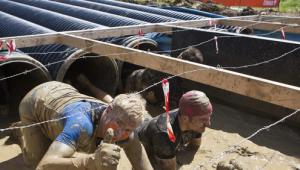 Former 400m Commonwealth Champion Iwan Thomas today takes part in the inaugural Tough Mudder event in the UK.
Sponsored by Dyno-Rod the drain's experts, Tough Mudder UK sees the teams that enter the event run through water, wind and fire en route to the finish line. Tough Mudder events place an emphasis on teamwork rather than finishing times, and entrants are encouraged to help their fellow "Mudders" along the 12 mile, army-style assault course to build a spirit of camaraderie amongst competitors
Today's debut event takes place at the Boughton House and Estate, outside Kettering in Northamptonshire with further UK events scheduled for Drumlanrig Castle, Scotland in July and the Cholmondeley Estate, Cheshire in November. Prospective participants and spectators can find out more by visiting the Dyno-Rod Tough Mudder Facebook page at: www.facebook.com/DynoRodUK
The first Tough Mudder event was held in Pennsylvania in 2010 and the series has been so popular that events are currently scheduled to take place in the USA, Australia, Canada and the UK in 2012. Countries including France, Japan, South Africa, Sweden and Germany have also already expressed an interest in bringing Tough Mudder to their shores in 2013.