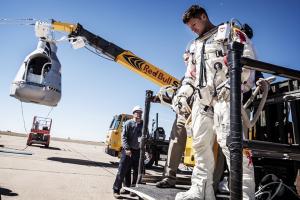 Red Bull Stratos Project Update: Launch Aborted Due To Winds
---
Felix Baumgartner's Record Breaking Jump From 120,000ft Delayed Due To Wind Gusts
---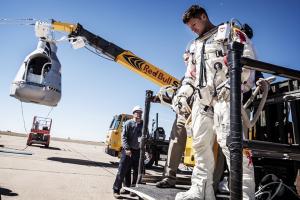 Tuesday 9th October 2012 – Roswell, New Mexico – Felix Baumgartner's attempt to jump from the edge of space had to be aborted at the last minute (11.42hrs MDT local time) due to wind gusts that made it impossible to safely inflate the 30 million cubic feet / 834,497 cubic meters balloon. Baumgartner and the Red Bull Stratos team had waited for five hours in vain for the winds to calm down for the launch.
The Austrian athlete is attempting to undertake a stratospheric balloon flight to an altitude of 120,000 feet / 36,576 meters to become the first person to break the speed of sound in freefall. The findings from the mission will also help to improve our scientific understanding of the stratosphere and how the body copes with the extreme conditions at the edge of space.
At this stage the mission team is closely monitoring possible new launch days before approval is given for another countdown. Progress will be communicated as it happens.
Footage of the successful pre-flights tests, alongside updated interviews with Felix Baumgartner and the wider Red Bull Stratos team can be accessed at: www.redbullstratosnewsroom.com
Powered by WPeMatico