GB's water stars reveal stunning new images
showcasing some of Britain's top aquatic talent ahead of the summer.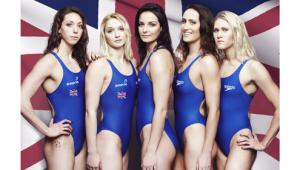 Some of our best hopes for swimming glory this summer have gathered for a stylish photoshoot in a bid to urge Britain to support them in their quest for gold.
Amy Smith, Caitlin McClatchey, Keri-anne Payne, Georgia Davies and Jemma Lowe teamed up to produce the striking images, which show that Britain's best aquatic talent is ready for the challenge ahead.
With just months to go, our swimmers are encouraging the nation to show its support for the British swimming teams as they prepare for the biggest competition of their careers.
The glamorous girls are also doing their bit to inspire fans to take a dip themselves this summer.
As part of the British Gas 'Free Swims for Britain' campaign, those who sign up to support the teams will be able to take the plunge for free in more than 700 pools, in leisure centres, health clubs and hotels across the country.
Free Swims for Britain runs until 30th August 2012. For further information and to book your free swims go to www.britishgas.co.uk/freeswimming