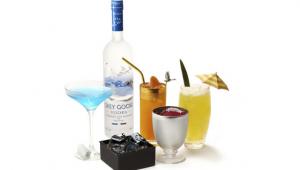 Exceptional Character Cocktails Designed for the GREY GOOSE® Winter Ball to Benefit the Elton John AIDS Foundation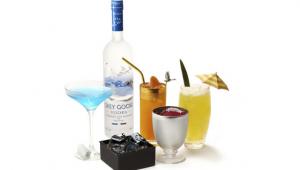 GREY GOOSE vodka unveils its bespoke collection of cocktails designed especially for the GREY GOOSE Winter Ball to benefit the Elton John AIDS Foundation, in collaboration with this year's character partners Emeli Sandé, Labrinth, Gareth Pugh, Ellen von Unwerth and Karim Rashid.
The internationally acclaimed and star studded event, now in its sixth year, will be taking place at Battersea Power Station on Saturday 10 November, with a theme of 1950's Cote D'Azur. Guests will be transported from a chilly autumn evening in London to a scene reminiscent of the Riviera in its heyday, where poolside glamour, palm trees and pastel colour schemes abound.
The GREY GOOSE Winter Ball to benefit the Elton John AIDS Foundation will begin with a glittering reception, where guests will be invited to sip bespoke cocktails created by each of the evening's incredible partners. GREY GOOSE ambassador Joe McCanta has worked with each of them to construct a cocktail that either perfectly encapsulates their individual character and style, or that pays homage to the evening's theme.
As well as designing their own bespoke cocktails for the evening, Ellen Von Unwerth, Gareth Pugh and Karim Rashid will also be donating a portable cocktail bar for auction that they have designed especially. Labrinth and Emeli Sandé will treat guests to a dazzling musical performance following a spectacular Mediterranean dinner, courtesy of The Connaught's two Michelinstarred Head Chef Hélène Darroze.
Using pioneering techniques in mixology, some of the cocktails will invoke guests' senses to immerse them completely in their surroundings. Labrinth's Une Journée A La Plage is a sensory drink that combines GREY GOOSE and banana liqueur with notes of coconut, pineapple and lime, topped with a parasol infused with the scent of summer.
The evening's guests will also be able to sip Emeli Sandé's Poolside Martini. Elegant, calm and sophisticated, this azure blue cocktail captures the essence of a 1950's poolside scene with a stylish combination of GREY GOOSE Le Citron, vanilla and thyme, accessorised with a white beach towel.
Gareth Pugh's Grey Goose La Boite Poire is served in an iconic black box that is inspired by the designer's collections. Sweet and salty, this drink features GREY GOOSE La Poire, French tarragon syrup and fresh lime, served over ice with a coriander-black-salt rim.
Ellen Von Unwerth's cocktail, the GREY GOOSE Golden Angel, is a rich, glamorous drink inspired by 1920's French Cabaret and the burnished gold and orange shades of the photographer's cocktail bar. GREY GOOSE L'Orange and traditional French flavours are given a distinctive twist with a rare liqueur made from Pyrenean herbs and a decadent sprinkling of gold leaf.
Designer Karim Rashid's cocktail, Grey Goose L'Avenir, is inspired by his minimalist bar design and his signature futuristic aesthetic. Intended as 'the martini of the future', this is a seductively tart and slightly bitter mix of GREY GOOSE and a host of super foods including pomegranate, milk thistle and quinine wine, housed in a metallic goblet and garnished with a glistening ice orb.
Tickets are available to purchase by contacting the charity on 020 7603 9996 or online at ejaf.com. 100% of the ticket price is donated directly to the Elton John AIDS Foundation (charity registration no 1017336).
GREY GOOSE Winter Ball to benefit the Elton John AIDS Foundation Cocktail Recipes
GREY GOOSE UNE JOURNÉE A LA PLAGE
INSPIRED BY LABRINTH
Recipe:
– 35ml GREY GOOSE vodka
– 10ml Gabriel Boudier crème de bananes
– 15ml Bahida coco de clement
– 10ml fresh lime juice
– 100ml fresh pineapple juice
Glass: Highball
Method: Shake and strain over crushed ice
Garnish: A pineapple leaf and a scented parasol
POOLSIDE MARTINI
'INSPIRED BY' EMELI SANDÉ
Recipe:
– 45ml GREY GOOSE Le Citron
– 15ml MARTINI Bianco
– 5ml French thyme liqueur
– 7.5ml French blue curaçao
– 1 dash French asparagus eaux-de-vie
Glass: GREY GOOSE coupette
Method: Stir and strain
Garnish: Lemon zest (discarded) and a miniature rolled
up towel
GREY GOOSE LA BOITE POIRE
INSPIRED BY GARETH PUGH
Recipe:
– 35ml GREY GOOSE La Poire
– 20ml French tarragon syrup
– 25ml fresh lime juice
Glass: Black box
Method: Shake and strain over perfect cubed Hoshizaki ice
Garnish: Rim the box with coriander-black salt
GREY GOOSE GOLDEN ANGEL
INSPIRED BY ELLEN VON UNWERTH
Recipe:
– 35ml GREY GOOSE L'Orange
– 5ml Green Chartreuse
– 15ml French liqueur de coscoll
– 25ml pink grapefruit juice
– 60ml French apricot juice
Glass: Rocks
Method: Shake and strain over cubed ice
Garnish: A gold straw and fresh apricot sprinkled with
gold dust
GREY GOOSE L'AVENIR

INSPIRED BY KARIM RASHID
Recipe:
– 35ml GREY GOOSE vodka
– 20ml fresh lemon
– 15ml rosehip cordial
– 10ml Americano Cocchi
– 35ml superberry juice (tart cherry,
pomegranate, goji and aronia)
Glass: Metal goblet
Method: Shake and strain over an ice orb
Garnish: Ice orb
GREY GOOSE LE FIZZ
An elegant and refreshing combination of GREY GOOSE vodka, fresh lime juice and elderflower, served in a flute topped with chilled soda.
Ingredients:
35ml GREY GOOSE vodka
15ml Elderflower cordial
15ml Freshly squeezed lime juice
75ml Chilled soda water
Glass: GREY GOOSE flute
Method: Shake GREY GOOSE, lime and elderflower,
double strain into a flute glass and top with chilled
soda water.
Garnish: GREY GOOSE stirrer
ejaf.com
facebook.com/greygoosersvp
twitter.com/greygoosersvp
greygoose.com
Powered by WPeMatico