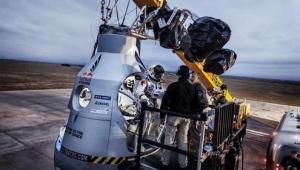 Final preparations underway for Red Bull Stratos mission with Tuesday 9th October looking positive subject to weather conditions
The mission team have conducted a step by step dress rehearsal of the final hours before the Red Bull Stratos launch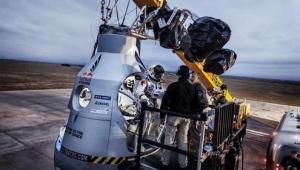 Today, October 8th, 2012, ROSWELL, New Mexico (USA) – As the mission grows closer Felix's family and friends are also making their final preparations for his 120,000 feet record breaking jump, supporting him along the way alongside the mission team.
The mission team have conducted a step by step dress rehearsal of the final hours before the Red Bull Stratos launch. A successful result, with the addition of a favourable weather report, has heightened the team's anticipation for a lift off on Tuesday, October 9.  The entire crew assembled to practice the 58 steps that will take the mission from a preparatory weather briefing all the way through to a dawn launch of the  55-story high balloon. The rehearsal is a vital component of preparation for every jump as it enables the teams from all four areas of responsibility to consolidate their checklists into one seamless process.
"Rehearsal is critical," said high performance director Andy Walshe. "Everything went wonderfully well and the crew was on their game. A couple of times we were ahead of schedule, which is really reassuring. It gives us a sense of confidence."
Understanding the need to coordinate his activities with those of other crew members, Baumgartner participated too, undergoing a medical check, getting suited up and entering the capsule using the same activation plan that will be implemented at the final launch. "You cannot do this without a team to support you," the Austrian noted.
Equally reassuring was the news from meteorologist Don Day, who had studied forecast data throughout the night in Mission Control. After a 24-hour postponement due to an unfavourable weather forecast, Tuesday October 9 continues to look promising for the launch. In the days leading up, the team will make minor adjustments to the rundown, even refining the language in which checklists are written to ensure that all crews are absolutely synchronized.
Baumgartner will launch with the largest manned balloon in history: 550 feet/ 168 meters high at the start with a volume of 30 million cubic feet/ 850.000 cubic meters.
"The good news is that we usually have a day or two after this type of cold front moves through where the weather can be favorable for a balloon launch", Don Day says.
Red Bull Stratos
Red Bull Stratos, created by Red Bull and Felix Baumgartner, is a mission to the edge of space that will try to surpass human limits that have existed for more than 50 years. Supported by a team of experts, Felix Baumgartner will undertake a stratospheric balloon flight to more than 120,000 feet / 36,576 meters and make a record-breaking freefall jump in the attempt to become the first man to break the speed of sound in freefall (an estimated 690 miles / 1,110 kilometres per hour), while delivering valuable data for medical and scientific advancement.
Powered by WPeMatico