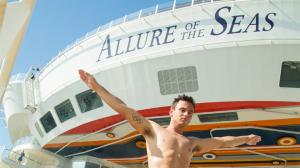 The Caribbean is voted the UK's number one dream destination
Celebrity Tom Daley goes head to head with World Champions in first ever Caribbean Cup Challenge
Tom Daley sharpens his competitive edge in his latest high adrenaline conquest, The Caribbean Cup Challenge. Pitting his skills against other renowned World Champions, fans of Tom get to see him like never before in an online trailer for The Caribbean Cup Challenge which premieres online today. Research also unveiled today that The Caribbean Cup Challenge takes place in the destination Brits have voted as their number one dream destination.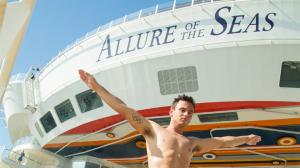 The Caribbean Cup Challenge puts three world champions through their paces and comprises ten challenges, each demanding a different skill from the gold medal winners. From kayaking to sushi making, water polo and rockclimbing, the Caribbean Cup Challenge is set against the stunning backdrop of the Caribbean seas and islands.
The diving champion and TV presenter explains "I never thought I'd be competing against two other legends of sport. It was so cool to be alongside them. Anything dangerous or has got heights or is scary excites me. It was quite an experience."
Tom Daley's participation in the Caribbean Cup Challenge coincides with Brits nominating Tom as one of the top three men they would most like to be stranded with on a Caribbean island. The Caribbean also emerged as a popular dream destination choice for weather weary Brits, beating many other sunny destinations, including Mexico and India. The scenery, climate and food all contribute to the Caribbean's popularity according to research released by Royal Caribbean International. The survey also reveals:
1 in seven Brits are planning to holiday in the Caribbean in 2014
38% of Brits said the purpose for a trip to the Caribbean was a family holiday, whilst 36% said romantic getaway.
A quarter of Brits aged 35-60 would prefer to get to experience the Caribbean by cruise ship
The top three items women would take to their dream destination would be a camera, bikini and mascara whilst men declare the radio a must have item
Escapism, Luxury accommodation and music were other reasons why the Caribbean makes people happy.
61% of woman aged 35-60 said the climate is the most appealing about the Caribbean, whilst 57% of men aged 35-60 said it is the scenery
The Caribbean is voted the number one 'dream destination' by women in the UK aged 35-60
The Caribbean Cup Challenge takes place on the Allure of the Seas. This is the most innovative and newest ship in the Royal Caribbean's Oasis fleet which features a host of activities on board to keep families entertained, including the zip line, aqua theatre, ice skating rink and a rock climbing wall which – at three stories tall – is the biggest climbing wall at sea. For adults seeking a different vibe there are also plenty of opportunities to relax in the solarium or spacious rooms and indulge in a massage or facial at the Vitality at Sea Spa.
To get more information on Royal Caribbean's Caribbean Cup Challenge and see Tom in action visit www.royalcaribbean.co.uk/caribbean-cup
You may also visit www.royalcaribbean.com and or http://www.royalcaribbean.co.uk/destinations/caribbean/
Powered by WPeMatico