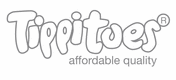 Tippitoes Expands into Travel Systems
22 Aug 12
Tippitoes is delighted to announce the launch of its brand new 3-in-1travel system, Toto which is now available to purchase at www.tippitoes.com with an RRP of £385.
Suitable for use from birth and designed to adapt to parent's needs as baby grows, the Toto 3-in-1 is the first travel system from leading nursery brand Tippitoes.  It has everything you need to ensure getting around with your baby is as hassle-free as possible. Incorporating pushchair, carrycot and car seat functions each option is designed with your baby's comfort in mind.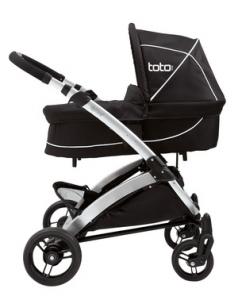 Available to buy individually the car sear, carrycot and pushchair are easily converted without the need for adapters. The carrycot and pushchair options are parent facing to encourage development through talking, laughing and interacting. The pushchair can also be used forward facing to allow baby to take in the world around them.
The Toto car seat is a group 0+ baby seat suitable for babies from birth until they reach a maximum weight of 13kg/29lbs (approx 12-15 months).  It features an impact absorbing shell with side impact protection to ensure your baby's safety in the event of a side on collision. The lightweight car seat also features an adjustable five point safety harness, with chest pads and head hugger.
When not in use the complete travel system folds compactly for storage. The Toto travel system features front swivel pneumatic tyres complete with front and back suspension, linked rear brakes and an ergonomic sponge grip handle which ensure a secure and smooth journey for both baby and parent. Other added extras include adjustable hoods and spacious shopping basket.
Available in a stylish black finish complemented by silver piping, the Toto 3-in-1 combines style, safety and quality at an affordable price.
Powered by WPeMatico