PIGGY
DVD Release date: 21st May 2012
DVD RRP: £15.99 Cert: 18
Tough, shocking and utterly compelling, PIGGY is a dark and brutal tale of revenge and retribution on the mean streets of London.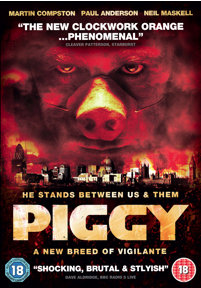 When his brother is murdered Joe (Martin Compston – The Disappearance of Alice Creed, The Damned United) finds solace in an old family friend, Piggy (Paul Anderson – Sherlock Holmes, The Firm, The Sweeney). Piggy helps Joe to cope with his grief, intent on saving him and helping him get justice for his brother's killing.
But as their friendship grows Joe finds himself in an increasingly dangerous world of violence and revenge. Soon Joe's life begins to collapse around him as he starts to question who Piggy really is, culminating in a brutal, disastrous climax that will stay with you forever.
With an electrifying performance from Paul Anderson in the title role, PIGGY signals the arrival of director Kieron Hawkes as a major new force in gritty British cinema.
For check discs, competitions and further press information please contact
Chris Boyd – 0207 535 7309 / [email protected]