Loved By Celebrities
And Doctors Worldwide
09 Mar 12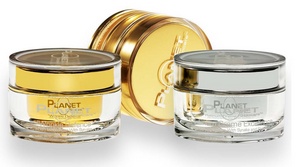 The only cream in the world to contain these 2 remarkable ingredients.
Amazing New Product: Platinum Creme Excellence®
Clinically & Scientifically Proven Results
* Dramatic 61% reduction in fine lines & wrinkles
* Improves skin elasticity up to 47%
* Increases natural skin hydration levels up by 33%
* Activates the production of fresh Collagen I and III
* Active ingredient Syn-ake® inhibits the release of neurotransmitters which cause facial lines and wrinkles
* Prevents DNA damage
* Improves skin cell natural electrical balance
* Fragrance Free / Paraben Free
* Allergy / Clinically Tested
* Not tested on animals
Men & Women of any age can benefit from the remarkable results of Platinum Crème Excellence®
Our Age-Defying Platinum Crème Excellence contains the two most remarkable technologies which effectively prevent and combat fine lines and wrinkles.
This highly effective Platinum-Peptide based cream is designed to act like a GPS system – carrying 'active ingredients' through the skin layers to the skin cells, having a direct and prompt impact upon the production of Collagen I and III (the building-blocks of youthful skin) whilst also preventing DNA damage to your skin and visibly reducing the signs of ageing instantly – fine lines and wrinkles quickly disappear whilst skin elasticity is improved. Blended with Syn-ake® the facial muscle contractions which cause wrinkles are dramatically restricted… the "Botox® Effect"
Our Platinum Colloid: Nano-particles engineered by our pharmacists who have been able to bond up to 48 'short segment Peptides' to each particle of our Platinum. By engineering our Platinum with such a high number of Matrixyl Peptides and blending it with Syn-ake® Planet Skincare now offers the most scientifically efficient and effective anti-wrinkle cream on the Worldwide market!
The new 'Buzz' in anti-wrinkle technology is of course 'Platinum': Nanotechnology has crossed over into the world of life-science. Platinum Nanotechnology has remarkable properties when it comes to direct skin cell repair and rejuvenation . It is certainly the most exciting technology to come to the cosmedical market because it is a proven medical technology that delivers drugs and cell-engineering formulas directly to individual skin cells. Until now even the most advanced anti-wrinkle creams have been limited by their ability to penetrate the outer layers of the skin.
Our 'Platinum Colloid" is engineered to maximise the repair of damaged skin cells in a different way to any other product… and we have formulated our latest cream to benefit all skin types through applying multiple advanced technologies
www.planetskincare.co.uk