Introducing The NEW
Spring/Summer Nail
Collection From Miners Cosmetics
     28 Mar 12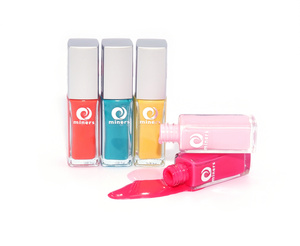 Spring into Summer with the sweep of a brush!
This season sees catwalks awash with classic pastels with an edgy and bright twist.  With this in mind Miners have launched a brand new bright and breezy Nail Collection for 2012:
Keepin' it Teal – Having spent many an hour dreaming of sippnig on a Sea Breeze Cocktail looking out onto stunning ocean views, we knew we needed to bottle it!  Keepin' it Teal is a stunning aqua shade that will hydrate any Summer look.
Mango Tango – Arrriba!  This shade combines the intensity and sexiness of the Tango with the fun and fruitiness of Samba loving Carmen Miranda.  Inspired by that famous 'edible' hat, this beach bright is the perfect Spring/Summer shade.
Sunny Side Up – Taking us back to lazy Summer days spent making daisy chains whilst soaking up the sun, this fresh and vibrant shade encapsulates everything to do with Spring and Summer.  The fun yellow colour has been a popular edition to the top runways this season including Mulberry and Louis Vuitton – a must have edition to any Summer collection.
Joining the three brand NEW shades are two of our firm favourites – Marshmallow and Jezebel
RRP £2.99