I Can Sing A Rainbow

     22 Dec 11
Kids' Rooms' colourful collection of fabric designs incorporate all the colours of the rainbow!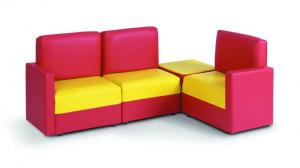 Kids' Rooms has created the ultimate collection of gorgeous new furniture to bring bedrooms to life with a dash of effervescent colour. Kids' Rooms, the leading online children's retailer, is delighted to introduce its vast and vibrant range of bright and bold uplifting coloured sofas, armchairs and bean chairs… certain to make your heart sing!
Kids' Rooms' dazzling collection of cosy and comfortable seats includes 20 striking armchair colours, 16 bean bag shades, 11 baby bean chair patterns, 12 sofa designs and 2 eye-catching duo-tone corner sofas.
Its epic variety of colours and designs is reminiscent of a never-ending rainbow; from red to blue and with all the colours in between, Kids' Rooms has a lovely design to suit the décor of every bedroom and playroom.  Additionally, with patterns such as Countryside, Roar Natural, Vibe Candy and Sailboat Light Blue, each miniature sofa and chair boasts its own charming character to suit all little personalities!
Little princesses can sit 'pretty-in-pink' with the Candyfloss Sofa or Candy Stripe Baby Bean Chair; whilst boys will feel right at home with the Blue Cord Bean Bag or Blue Gingham Baby Bean Chair.  Furthermore, the majority of Kids' Rooms' wide range of colours is available across its entire seating collection, with coordinating armchairs, bean chairs, bean bags and sofas.
For a choice of fabrics in every colour under the rainbow, Kids' Rooms has a one-stop 'pot-of-gold' for super-sofas and charming-chairs!  Its comprehensive collection includes its fantastic range of beautiful and exclusive furniture, accessories, crafts, games, toys and much more besides.  With products to suit a variety of styles, spaces and budgets, Kids' Rooms has one of the UK's largest selections of quality, practical and stylish bedroom collections.
We have a stunning selection of images available – as a taster we have attached: Corner Sofa in Red & Yellow (£350), Candyfloss Sofa (£165), Roar Natural Armchair (£99.95), Sailboat Light Blue Baby Bean Chair (£45), Vibe Candy Armchair (£99.95), Countryside Sofa (£165), Blue Gingham Baby Bean Chair (£45), Candy Stripe Baby Bean Chair (£45), Blue Cord Bean Bag (£45)
www.kidsrooms.co.uk  Stockist: 02380 675941