The ancient settlement of Brighthelmstone dates from before Domesday Book (1086), but it emerged as a health resort featuring sea bathing during the 18th century and became a destination for day-trippers after the arrival of the railway in 1841. Brighton experienced rapid population growth, reaching a peak of over 160,000 by 1961. Modern Brighton forms part of the Brighton/Worthing/Littlehampton conurbation stretching along the coast, with a population of around 480,000.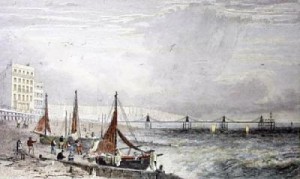 In the Domesday Book, Brighton was called Bristelmestune and a rent of 4,000 herring was established. In June 1514 Brighthelmstone was burnt to the ground by French raiders during a war between England and France. Only part of the St Nicholas Church and the street pattern of the area now known as "The Lanes" survived. The first drawing of Brighthelmstone was made in 1545 and depicts what is believed to be the raid of 1514. During the 1740s and 1750s, Dr Richard Russell of Lewes began prescribing seawater at Brighton.
By 1780, development of the Georgian terraces had started and the fishing village became the fashionable resort of Brighton. Growth of the town was further encouraged by the patronage of the Prince Regent (later King George IV) after his first visit in 1783. He spent much of his leisure time in the town and constructed the Royal Pavilion during the early part of his Regency. Although contracted forms of the name are attested since the 15th Century, it was not until this period that the modern form of the name came into common use.
The arrival of the railway in 1841 brought Brighton within the reach of day-trippers from London and population growth from around 7,000 in 1801 to over 120,000 by 1901. The Victorian era saw the building of many major attractions including the Grand Hotel (1864), the West Pier (1866) and the Palace Pier (1899).
After boundary changes between 1873 and 1952, the land area of Brighton increased from 1,640 acres (7 km2) in 1854 to 14,347 acres (58 km2) in 1952. New housing estates were established in the acquired areas including Moulsecoomb, Bevendean, Coldean and Whitehawk. The major expansion of 1928 also incorporated the villages of Patcham, Ovingdean and Rottingdean, and much council housing was built in parts of Woodingdean after the Second World War.
More recently, gentrification of much of Brighton has seen a return of the fashionable image which characterised the growth of the Regency period. Recent housing in the North Laine, for instance, has been designed in keeping with the area.
In 1997 Brighton and Hove were joined to form the unitary authority of Brighton and Hove, which was granted city status by Queen Elizabeth II as part of the millennium celebrations in 2000.
Brighton is sometimes referred to as London-by-the-sea
Excerpt from Wikipedia