Giuliano Fujiwara –
FW12-13 Man
     14 Mar 12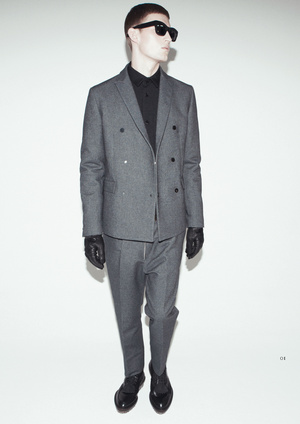 The FW12 Giuliano Fujiwara collection continues the brand's quest to push the boundaries of innovative and refined tailoring, grounded by its streetwear edge.
 Creative director Masataka Matsumura, has been inspired by the heavy-duty outerwear of Canada and the Inuits; the enveloping, slightly oversized silhouettes, the mixed natural and technical fabrications, the underlying connotations of outdoor workwear, and a great considerstion of practicality, layering and warmth have shaped a diverse fall-winter collection for the urban Fujiwara man.
 Key wardrobe pieces are offered, classic styles with the Fujiwara twist from fur-trimmed technical sport parkas, elegant coats with velvet and shearling collars, technical wool jackets with leather workwear patches, to dynamic leather blousons with drop-out plaid wool linings, wearable as a seperate piece. Check shirts, and melange heavy gauge argyle knitwear provide the perfect vintgae-inspired underpinnings. Trousers shapes are modern- from cropped, wide to tapered styles and elasticated details for comfort. Signature Fujiwara finishing is visible though out, with raw wool edges, clean cut lines and discreet fastenings.
 Accessories are utilitarian, classic work-boots, brogues and sneakers take an eccentric twist- offered in mixed fabrications and colourways- primarily robust nobuk leather and sturdy rubber soles. Whilst bags have multiple straps for different carrying methods, again mixing leathers and technical fabrics.
 The colour palette has been driven by the natural colours of the Inuit attire, the beige, camel and brown alongside the male wardrobe classics like blue, grey and black. Shots of dusty yellow, petrol blue and red come into play, providing a modern, graphic contrast.
Web: www.giulianofujiwara.com