Stars of 'The Avengers' celebrate imagination at their New York Premiere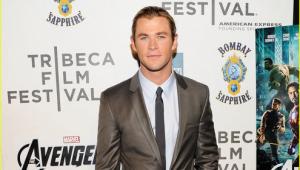 Stars from the summer's most hotly anticipated film celebrated imagination at the New York premiere of 'The Avengers'.
Chris Hemsworth, Mark Ruffalo, Cobie Smulders and Tom Hiddleston reflected on their experience of making the film and bringing the comic book series to the big screen.
Bombay Sapphire announces the launch of their Imagination Series Filmmakers Competition at Tribeca Film Festival this week,  hosting the exclusive after-parties of Emily Blunt's 'Your Sister's Sister', Chris Rock's '2 Days In New York' and the closing premiere, summer blockbuster 'The Avengers'.
To celebrate filmmakers around the world, Bombay Sapphire, in association with Tribeca Film Festival, is offering budding filmmakers the chance to make their own short film, using their imagination to interpret Oscar-winner Geoffrey Fletcher's short film script.
Oscar-winning scriptwriter Geoffrey Fletcher today announces a new competition to find a rising star in filmmaking to bring his script to life.
From the 26th of April, budding filmmakers can view the script at www.imaginationseries.com and can submit their interpretation of the Geoffrey's script on this site from the 8th of May 2012. A global judging panel, including Geoffrey Fletcher and industry leaders put together by the Tribeca Film Festival, will select five winners from a shortlist of entries who will then go on to produce and direct their own individual films and view these at a star-studded international premiere early 2013.
For more information visit  www.bombaysapphire.com | www.facebook.com/BombaySapphire