Free Up Your Hands With My Buggy Buddy Clip
From Kiddymania

     29 Dec 11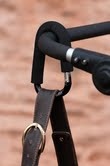 Award winning website Kiddymania is thrilled to showcase the My Buggy Buddy Clip, designed to give parents an extra pair of hands when out with their little one. This essential piece of pram kit simply clips over the pram handle and snaps securely into place. Multiple shopping bags can be safely hooked onto the clip before snapping into place putting an end to the frustration of juggling shopping and pushing a pram with one hand – argh!  We all know that situation far too well.
Whether you are taking your baby for a brisk walk around the park, fitting in some errands at your local shops or whizzing around on public transport, the My Buggy Buddy Clip will allow you to securely fasten your bags to your pram freeing up your hands and limiting any strain of carrying bags awkwardly.
The My Buggy Buddy Clip fits a variety of pushchairs and is also great for shopping trolleys too – another place parents need an extra pair of hands. The secure clip opens and closes with one simple flick. It can hold shopping bags, hand bags and changing bags so you can attend to the task in need.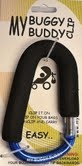 t's also idea for days out and securely carrying other items such as camera bags, swimming bags or picnic goodies. A lockable version is also available so you can secure your pram if you need to leave it when out and about.
The My Buggy Buddy Clip is used world wide and is so easy to use. It is lightweight and oh so versatile. Kiddymania believe that once you get hold of this essential pram kit you'll wonder how you ever managed without it. The My Buggy Buddy Clip is available from www.kiddymania.co.uk priced at £5.95