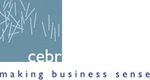 Europe To Go Ex-Growth
In 2012
     22 Dec 11
Updated forecasts by the leading economists Cebr show world growth falling to 2.5% in 2012, a downward revision from the forecast made in September. And Cebr have prepared a risk scenario 'if the politicians fail to fix the problems of the Euro' which would lead to 'one or more countries leaving the Euro, sovereign defaults and banks going bust and needing to be bailed out' which would reduce global growth in 2012 to 1.1%.
The European growth slowdown is forecast to be even more marked, with a fall in GDP by 0.6% in 2012 and a possible fall if the Euro fails to be saved of 2.0%.
The forecast for the US is better than for Europe, with growth of 1.8% in 2012.
The bulk of the economic growth that is likely to take place next year will be in the emerging economies. China is forecast to grow by 7.6% and India by 6.0%. But other recent star economies are likely to face an economic slowdown with Turkish growth slowing to 2.5% from 7.1% this year; Saudi Arabia at 4.0% after 6.1% this year; Russia 2.8% after 3.8% this year; and Brazil 2.5% after 2.8% this year.
The knock on effect of continued sluggish demand growth is that oil and commodity prices are likely to be weaker than previously assumed. Cebr now forecast that the price of oil (weighted average of Brent Crude, West Texas Intermediate and Dubai Fateh) will fall to $86 in 2012 compared with an average of $103 in 2011. The commodity price index is forecast to fall by 10% in 2012.
"The world economy will not be in technical recession because even on our more pessimistic scenario we still expect positive growth" comments Douglas McWilliams, Cebr's Chief Executive and co-author of the report. "But the slowdown we are expecting will be a sort of double dip, and of course significant parts of the world are likely to be in recession – much of Europe for example."