Care For Your Hair
According To Your Age
     26 Mar 12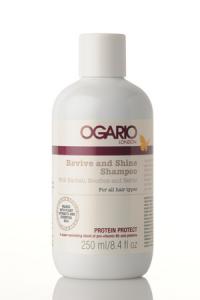 Hair is important to women at every stage of life. Here, Norris Ogario, Creative Director of luxury haircare range OGARIO London, shares his tips on keeping hair in great condition whatever milestone in life you've reached…
Twenties
Hair goes through a lot once you've broken out of your teens. Women are more likely to follow the latest trends using heated styling tools, fixatives and fashion colouring. With so much expected of it, hair needs to be nourished and hydrated to keep it looking its best.  Regular trims are important to keep split ends in check and we recommend using a weekly treatment such as OGARIO London's Restore and Shine Hair Masque. With healing sage and lavender, hair will stay looking glossy and healthy whatever you put it through.
Thirties
This is an age when many women are juggling a career and family but if you have time for nothing else, do invest in a quality haircut. Make sure you have a proper consultation with your hairdresser before your hair has been washed. When I talk to a client, I can tell a lot from their mannerisms about how they wear their hair – they might push it to one side, away from the face. You can't spot this when the hair is wet. It's important to understand the client so we can create a hairstyle that suits them and their lifestyle. Busy lifestyles can be exhausting, leaving hair and skin dull and tired. We've combined baobab, nettle and rooibos in our Revive and Shine Shampoo to create an energy-boosting blend for your hair and scalp. The uplifting aroma in this blend will put a spring in your step and bounce in your hair.
Forties
A confident decade where women often have more time for themselves and are sure about what they want. Hair should reflect that. If they haven't done before, women may start to think about colour to cover the first signs of grey hair. For those who are embarking on hair colour for the first time and who have a small amount of grey, I recommend a vegetable tint, a semi-permanent colour that rinses out over time. They get great results and are much gentler on the hair.
Fifties
Women may find their hair changes texture and can start to thin a little due to hormonal changes. It's important to adapt the way you care for hair to respond accordingly. Shorter cuts help the strength of the hair but make sure you have a consultation to work out the best shape for you – if you don't get it right, it can be ageing. Invest in a quality hair care product too – shampoos and conditioners with proteins and high levels of pro-vitamin B5 will replenish the hair and help with its condition.
Sixties and beyond
Hair and skin becomes dryer as we age. Drinking plenty of water and a balanced diet will help hydrate the hair. Choose products with natural emollients to help tame wiry grey locks – synthetic silicones do work in the short term but can be drying over time. We recommend our Hydrate and Shine shampoo and conditioner duo, packed with nourishing ingredients such as pro-vitamin B5, silk proteins, avocado oil, honey and marshmallow to soften and control the hair, leaving it ready for styling.