PUMA® Unveils Plans For The PUMA YARD Brand Experience
In London At The Boiler House
On Brick Lane During The Global Games
PUMA's Jamaican-Themed Destination Brings Free Entertainment,
Shopping and Sports Concept to Brick Lane, London for 17 Days and Nights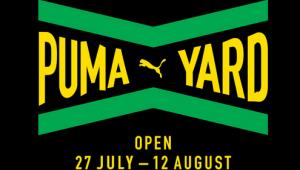 Herzogenaurach, Germany/Boston, Massachusetts – (19 June 2012) – Global sportlifestyle brand PUMA® announced today that The Boiler House, part of the Old Truman Brewery on Brick Lane in Shoreditch, East London, will be transformed into the PUMA YARD this summer to celebrate the global sporting events taking place this July and August in London.  For 17 days and nights during the Games, the Jamaican-themed PUMA YARD promises to be the ultimate destination, offering a convergence of sports, music and lifestyle activities that will deliver a one-of-a-kind fan experience.  PUMA is the long-term partner of the Jamaica Olympic Association and the Jamaica Track & Field team including the World's Fast Man, 3 time Olympic gold medal winner Usain Bolt.
"From PUMA Social parties to amazing live music acts to sports viewing and sports events for aspiring athletes and After Hours Athletes, alike, the PUMA YARD caters to anyone wanting to enjoy the Games with a cool drink in a relaxed Jamaican atmosphere," said Franz Koch, CEO of PUMA SE.  "We intend to be the hottest spot in London this summer."
"Given its relevance and its standing as an iconic and cultural area of London, Brick Lane was the ideal location for PUMA YARD," said Tony Ward, General Manager of PUMA UK.  "PUMA YARD, like PUMA, will be the perfect mix of sport and lifestyle to help Londoners get to know all that the brand stands for and its rich Jamaican heritage."
All About PUMA YARD
Free to the public and open from Friday, July 27 to Sunday August 12, 2012, the 479,160 square foot PUMA YARD comprises an indoor PUMA Social Club and an outdoor BACK YARD.  The BACK YARD, which can accommodate 500 guests at a time, will feature Kingston-inspired food stalls serving authentic Jamaican cuisine, a Beach Bar with refreshing island libations, music and entertainment, recreational areas, giant TV screens so fans can cheer on the athletes and the PUMA Speed Test where consumers can test their speed against the record setting 9.58 dash of the World's Fastest Man, Usain Bolt.
Also situated within the BACK YARD is the PUMA QUAD, a retail space built from four 40-foot shipping containers, featuring a multi-level shopping experience complete with a rooftop deck bar. Visitors can score exclusive PUMA YARD lifestyle-performance products, Usain Bolt-inspired trainers, and Summer Games fan wear designed exclusively for PUMA by Cedella Marley, daughter of reggae legend Bob Marley.
Adjoining the BACK YARD is the indoor PUMA Social Club, a shared social space with capacity for another 500 guests where PUMA will host events and everyone-can-join fantivities like foosball and ping-pong. This Kingston-cool lounge pays homage to the "After Hours Athlete" who finds inspiration in social competitions among friends, rather than hardcore sporting endeavours. The PUMA Social Club at the PUMA YARD is a continuation of the popular Social Clubs that PUMA has launched in major cities all over the globe, from Abu Dhabi to New York to Tokyo to Paris and beyond, celebrating the "After Hours Athlete."  A VIP section within this PUMA Social Club will serve as a special hospitality space for executives and VIPs.
PUMA YARD doors open each day at 12:00 noon for the afternoon session and at 19:00 each evening for the evening session. Admission is free but advance ticketing is required.  To get in on the action, fans must visit www.puma.com/yard and register for access. Digital tickets can be printed from home or scanned from a smart phone at the point of entry. Registration begins today, June 19, 2012.
Music at PUMA YARD
During the 17 days of operation, PUMA YARD will host a list of DJs, Club nights as well as live performances sure to get the crowd on their feet.
Headlining the grand opening of the PUMA YARD, just in time for the Games' Opening Ceremonies on July 27 is the talent of London based electronic dance music heavyweights Groove Armada. Groove Armada, fronted by Andy Cato and Tom Findlay, are sure to set the stage ablaze. The band will play an exclusive DJ set at the Yard and set the tone for things to come.
Another major act will take the stage on Jamaica Independence Day, August 6, when PUMA YARD welcomes Jamaican born reggae artist Gyptian.  Gyptian's "Hold Yuh" album and the title track have received critical acclaim globally.  His home-grown, yet globally-infused reggae sounds are the perfect way to honor the 50thyear of Jamaica's independence.
The PUMA YARD party reaches a final crescendo on August 11 and 12, with big blow-out performances from amongst others, the inimitable Professor Green. After exploding in the music industry with his current, double Gold-selling album, At Your Inconvenience Professor Green has become a household name. He has appeared at major festivals, performed on the X-factor and had a list of chart-topping singles and albums.  Professor Green is also a brand ambassador for PUMA and collaborates with the sportlifestyle company on a number of different projects.
Additional artists will be announced on www.puma.com/yard and consumers can stay up to date by becoming a fan on www.facebook.com/puma or follow the happenings via twitter at the @PUMA Twitter feed www.twitter.com/puma and use #PUMAYARD for any Tweets about PUMA YARD.