Miners Cosmetics Team
Up With New Band NVS!

29 Mar 12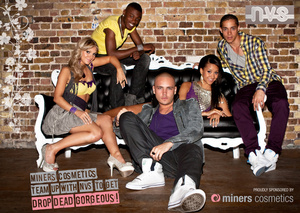 Miners Cosmetics are proud to announce a new and exciting partnership with hot new mixed group NVS.
Throughout March and April we will be proudly sponsoring NVS as they hit arenas across the UK and Ireland on the SELL OUT JLS 4th Dimension Tour.
The five piece band are made up of the very gorgeous and talented Harri, Tess, Brett, Declan and Rio; taking their name from the Italian phrase 'Niente Viene Semplice' which loosley trnaslates to 'nothing comes easy'. They have already performed alongside the likes of Tinie Tempah, NDUBZ and Labrinth and recently supported The Saturdays on their All Fired Up tour.
Throughout the 29 date arena tour the band will be also taking part in a school tour, working closely with the police to promote their campaign about anti-social behaviour.
As well as providing the band with all their drop dead gorgeous looks, Miners Cosmetics will be running marketing campaigns on twitter, facebook and online with get the looks, promos and most importantly VIP giveaways to the gigs.
NVS will be releasing their debut single Drop Dead Gorgeous at the end of April.