Giuliano Fujiwara Women's
Collection Fall/Winter 2012-201
13 Mar 12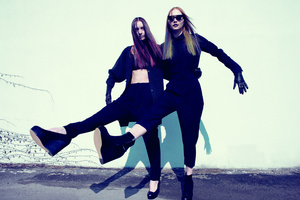 For Fall/Winter 2012-2013, the giuliano Fujiwara woman combines her modern, minimalist style – a slightly quirky, understated and typically Oriental approach – with a strong folklore mood. As with the Men's Fall/Winter 2012-2013 collection, the focus is on the Inuit, the Arctic civilization that lives near the North Pole whose richly colored costumes have inspired knitwear and decorative accessories such as necklaces and bracelets.
The collection – which is based on contrasts in fabrics, shapes, and colors – fully reflects the inner self of the giuliano Fujiwara woman: cute and cool/ conceptual, strong in appearance/ simple soul, striking look/ Zen spirit.
SILHOUETTES
Outerwear and clothes with egg-shaped, rounded silhouettes, pleating on cuffs, also double-faced.
Masculine work wear jumpsuits with feminine cropped pullovers.
Pea-coats worn with pleated shorts.
Miniskirts with oversized pullovers worn like jackets.
Baggy trousers with cropped pullovers.
Men and women's silhouettes.
KNITWEAR
Micro jacquard Inuit motifs in ultra-light mohair wool.
Sweaters with blue and red Milano stitch motif on white and black background.
Oversized shaker knit cardigans.
MATERIALS
A combination of contrasting close-knit fabrics: micro print wool combined with an ultra-glossy fabric.
Bouclé wool and faux fur.
Wool in colorful motifs with an ultra-modern weave.
Wool crêpe.
Lined nappa to create volume.
Shearling used for contrast: front and back.
FOOTWEAR
Platform soles: knee-high boots, booties, and open booties with wide ankle strap.
A combination of different materials: nappa, nabuck, and patent leather in a monochromatic version or with splashes of color.
 COLORS
 Basic black, anthracite gray, and midnight blue mixed with splashes of yellow and red.
ACCESSORIES
Bags in a blend of colors and materials.
Wooden necklaces and bracelets painted in Inuit motifs.
Futuristic acetate eyewear.
 For more information:
Web: www.giulianofujiwara.com