It's a new dawn for Britain's aquatic superstars as
leading athletes from each of the six disciplines
gather for a stunning new photoshoot.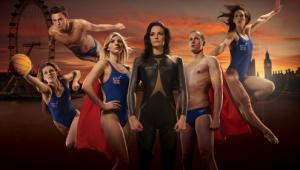 Some of our biggest medal hopes have been transformed into superheroes in a bid to urge Britain to support their quest for home glory at this summer's games.
Swimmer Rebecca Adlington, open water swimmer Keri-anne Payne, diver Tom Daley, water polo captain Fran Leighton, disability swimmer Sascha Kindred and synchronised swimmer Katie Dawkins teamed up to produce a stunning image, which shows that Britain's best aquatic talent is ready for the challenge ahead.
With just months to go, our superheroes are encouraging the nation to show its support for the British swimming teams as they prepare for the biggest competition of their careers.
As part of the British Gas 'Free Swims for Britain' campaign, those who sign up to support the teams will be able to take the plunge for free in more than 700 pools, in leisure centres, health clubs and hotels across the country.
Free Swims for Britain runs from 13th April to 30th August 2012. For further information and to book your free swims go to www.britishgas.co.uk/freeswimming