AUDI STAR CREATION 2012 HAS ITS TOP 12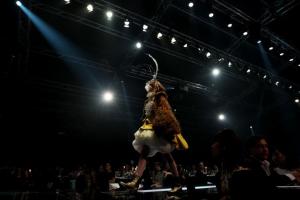 Fashion designers from 7 countries make the cut, including Japan, Singapore and South Korea; scramble to ready collections for the May 14 runway showdown begins
7 March 2012, Singapore – The 12 aspiring fashion stars who will face off on the runway at Audi Star Creation 2012 have been picked from over 250 submissions for the regional fashion design competition. The strongest showing this year came from South Korea, which produced four finalists. Singapore and Malaysia have two finalists each, and China, Indonesia, Japan and Thailand complete the seven countries that will be represented at the finals.
The 12 finalists for Audi Star Creation 2012 are:
Liang Wang, 27, China
Natalia Kiantoro, 22, Indonesia
Tatsuya Tsukahara, 24, Japan
Ling Siu Gin, 21, Malaysia
Vincent Wong, 22, Malaysia
Eugenice Chen, 20, Singapore
Jaslin Ong, 21, Singapore
Kim Mina, 24, South Korea
Kim Soo-Jeong, 25, South Korea
Kim Yong Woo, 27, South Korea
Ko Youngji, 32, South Korea
Soravit Kaewkamon, 23, Thailand
Singapore is fielding this year's youngest finalist – Temasek Polytechnic Apparel Design and Merchandising student Eugenice Chen, 20. The oldest contender comes from Korea – 32-year-old Ko Youngji. Details of the collections that all 12 will present on the runway are appended.
Aspiring designers from around the region were challenged to come up with six original, creative and commercially viable designs based on the theme, "Fashion Without Frontiers". The competition was open to designers between 16 and 35 with less than two years of experience in the fashion industry, and after an intense month of judging, these 12 have been chosen to transform their ideas into catwalk-ready collections.
The final face-off takes place at the Asia Fashion Exchange's [email protected] on May 14. Three of the 12 winners stand to walk away with a $10,000 cash prize from Audi Singapore, a one-year internship with leading fashion retailer FJ Benjamin and the chance to develop a capsule collection that will be launched at Audi Star Creation 2013. Of the three, the one whose collection best embodies Audi's design spirit of innovation, technology and progression will receive the Audi Young Designer Award (AYDA) – an additional  $10,000 cash prize. This is the third time the AYDA is being presented.
Three-time Audi Star Creation judge and Vice-President of the Textile and Fashion Federation (Singapore), Mr David Wang, says this year's judging was significantly harder given the sheer number of entries and the rising standards of submissions. This year saw a record number of 255 entries from 13 countries.
"The theme was deliberately chosen to allow for a wide interpretation, but we were surprised at how far some designers were able to push it while still infusing their collections with both personal and cultural styles. This year, we're going to be treated to everything from military-inspired womenswear to bold and unorthodox draping. It is going to be quite spectacular," said Mr Wang.
Audi Singapore, which has increased its stake this year in Star Creation to be the competition's presenting sponsor, will again also be presenting the Audi Young Designer Award to one of the winners.
Mr Reinhold Carl, Managing Director of Audi Singapore, said: "Since 2010, we have kept an eye on the winners of Star Creation to give out the Audi Young Designer Award. This goes to the designer who best embodies the progressive spirit of our brand in their designs, and the past winners of the award, Daniel Ngoo and Hiroyuki Watanabe, have wowed us with distinctive twists in their work. I am most excited to see how these qualities will be embodied in the collections of this year's participants."